DMC = Disassembled Motor Car
Quote of the Week:
"How'd you get a hold of a DeLorean? They're the fastest car ever built. They're not legal in the U.S." - Dennis Matusec
Home
Prev Week 12 Next
January 8-14, 2000
The 99 cent oil plug wrench?

Here's a great way to get out those pesky oil drain plugs on the cheap...

1) Get a piece of 5/16 key stock (available at most hardware or auto parts stores for around a buck).
2) Hacksaw a 1" piece off of one end
3) Insert this end into a 3/8" 12-point socket. It fits perfectly. I used an old one and permanently epoxied it in, but you can use any socket and insert and remove it easily.

Then just use the socket to get the plug out. Simple, and way cheap. Use the rest of the keystock to make a dozen or so adapters for friends! =)

Anyway... I drove back out to Allentown on the 8th to get another transmission from Gladys Muffley. I don't really think I needed it, but the price was right I guess.

I kept working on the engine this week... I'm starting to dream about Plastigage and torque wrenches, and I'm getting a permanent buzz from the engine cleaner...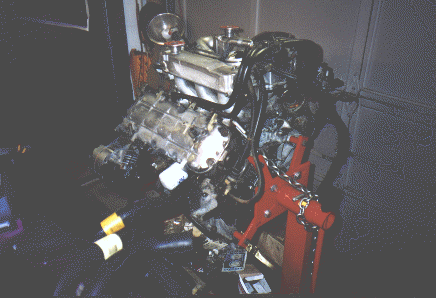 Costs for Week 12:

| | | | |
| --- | --- | --- | --- |
| Date | Purchase | Store | Price |
Copyright © ProjectVixen.com. All rights reserved.
Opinions expressed in posts reflect the views of their respective authors.
DMCForum Mailing List Archive DMCNews Mailing List Archive DMC-UK Mailing List Archive